Can you imagine?
A professional website like this…
Percentage of Awesomeness

100%

100%

Percentage Of Effectiveness

100%

100%

Percentage Of Coolness

100%

100%

Percentage Of Professionalism

100%

100%

Percentage of Envy

100%

100%
And only costing your business
a few hundred dollars?
Our Website Building 'Pig'-losophy
We believe a website must do two things simultaneously. The first is to give information, and give it fast. These days the web is more crowded than ever with information. How do you know if your end-user wants a lot of information…or a little? It's hard to predict! Our solution is to give them both when possible. We design your site to be easily navigable with 'key points' of info for those who want quick highlights, but also a way for someone to get much more detailed information from your site if they wish. A good example of this is below in the 'Read On' section…
The second, and equally important thing is to communicate with Google. We say Google, because it is the only company that matters when speaking of search engines. In terms of online searches, people use Google 9 to 1. 
Read on...
That statistic is crazy! To put that into perspective: If Toyota out-sold Honda 9 to 1 – there would be no Honda! Honda would literally be out of business. (For the record they only outsell Honda 2.5 to 1.) But seriously, are you truly comprehending that statistic? It's amazing that any other search engine is still in business. So, that's why we design our websites to work with Google first and all others second. Of course we also think our websites are aesthetically beautiful and state-of-the-art too, but you be the judge!
P.S. This 'Read On' was a good example of the first point, yes?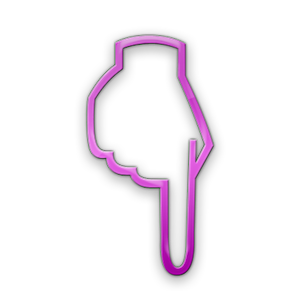 Why should I use you guys to do my website?
TIME IS MONEY – THAT'S WHY!
There are many companies out there that charge a standard monthly fee of $19-$50 per month and give you access to tools so you can design your website yourself. The key phrase here is, of course, 'do it yourself'…
If you have the time and want to spend hours learning, tampering, and reconfiguring their software to get a site to look the way you want it to, then those companies are probably a better fit for you.
If you don't have that kind of time, or are not 'tech savvy' – then we are a great option for you! We are cheaper than they are and we do all the work!
What is the difference between The Purple Piglet & other companies?
The biggest difference is, uh… just…EVERYTHING!  
We believe we are the best at what we do, but here are some highlights:
• Great -looking 21rst century designs
• All the bells and whistles at no extra charge
• Every site comes with fully integrated SEO-friendly protocols already built in
• Contact form installed
• And CHEAP CHEAP CHEAP
How fast are you guys?
Hummm…
How does 'lightning' sound? Seriously, as fast as you can get the 'elements' to us. These elements are things like photos, phone numbers, logos, etc.
So, how much will a website cost me?
How does ZERO SOUND? Yep, ZILCH!
Seriously, if you do the website hosting with us, a 3-page website will cost you nothing to design. Just pay the monthly hosting fee (which you would have to pay some company anyway) and you're set. Need more than 3 pages? You can check all our website pricing by clicking HERE.
Do you ONLY use the WordPress platform?
The short answer is NO. But the long answer is that we love WordPress and the majority of our sites are built with WordPress.
Here Are The Top 10 Reasons Why We LOVE LOVE LOVE WordPress:
10. SUPER EASY TO USE! WordPress is very easy. Plain and simple. Easy to change pages, format style, images and content. Time is money. Simplicity = More money in your pocket.
9. GOOGLE REALLY LIKES WORDPRESS! Simple and clean code in combination with the ability to add meta descriptions fast and easy, makes a happy marriage between Google bots and WordPress websites.
8. THE INITIAL DESIGN IS PAINLESS! Pick a theme and go. Or, build one yourself. Then you're off to the races.
7. EASY ACCESS! WordPress is browser-based. All you need is an internet connection and you can make changes to your site from any computer in the world. Easy. Breezy.
6. A HUGE ONLINE COMMUNITY! WordPress.org has thousands of registered users who help answer questions as well as provide documented reviews for plugins.
5. CHANGE YOUR SITE TODAY – NOT TOMORROW! WordPress is a CMS platform. You change what you want, when you want. It's fast and convenient.
4. LIVING IN A BLOGGER'S PARADISE! Every blogging capability known to man is built into WordPress. After all, it started out as a blogging platform!
3. AS BIG AS YOU NEED IT! It doesn't matter if you have 10 pages or 10,000. WordPress loads fast and efficiently. 
2. ASSIGN USERS WITH SEPARATE PRIVILEGES! You can add different users and change their access privileges at any time.
AND THE NUMBER 1 REASON WE LIKE WORDPRESS IS…
1. Plugins, Plugins, And Even More Plugins! With more plugins than you can shake a stick at, WordPress makes it easy to add almost anything. Multiple authors have made it ultra-convenient to add a custom feature without having to pay someone to program it for you. Just choose the plugin from a huge searchable list, test it out, and go…